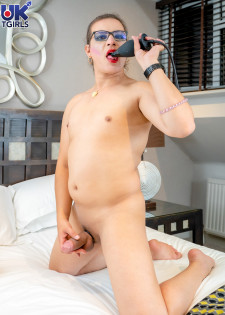 Elza loves cum and she gets off on being fucked hard. Today she will satisfy your desire and her as well by pleasing her ass with her toy and then jerks off her cock releasing a very satisfying cumshot.
7th Oct 2020
16:40 HD Video
& 101 Photos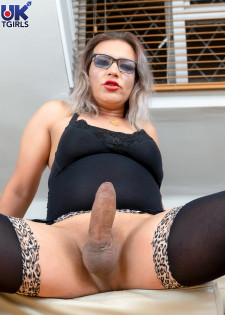 WOW! After her last scene here on UK-TGirls HQ last 2016 this Bulgarian beauty is finally back on stage and she is very excited to perform. Looking better than ever, watch Elza Rema showing you all her goods that you've been definitely longing to see!
23rd Sep 2020
16:52 HD Video
& 104 Photos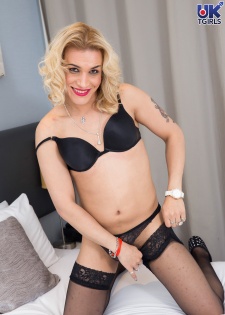 Elza Rema is horny Bulgarian bird with a big uncut cock and a passion for dressing slutty and pleasing her fellas! Never one to let the lads down in her UKTG shoots, Elza rocks today's set in a wee see-through black number complete with stockings and heels. Sprawling across the sheets and spreading her tasty pins wide, she invites us down south for a taste of the good stuff. Proper fookin' sexy!!
16th Feb 2016
16:16 HD Video
& 114 Photos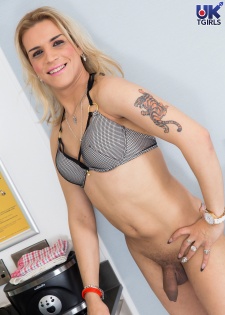 BULGARIAN bad lass Elza Rema treats us to some kitchen antics today - as she drops her knickers and ploughs her tight and sexy little 'arris like it's nobodies business all in celebration of her third appearance here on UKTG. Looking like she is dressed for sex and up for a damn good shagging in her black lacy body suit, Elza flaunts it once more for the Grooby lenses. Geeeetup!!
28th Jan 2016
12:30 HD Video
& 110 Photos
LOOKING very slutty and up for anything in her second UKTG cumming - it's Bulgarian mistress Elza Rema. A dark eyed and sassy lass with a tight and hungry little arse, Elza is up to her antics in Kalin's kitchen - a scene brimming with fishnets, boots and handcuffs, as well as seductive fag smoking and cock-play! She's a right horny little she-devil and she's waiting for you in the naughty corner (aka the update area) now!
25th Sep 2015
16:48 HD Video
& 119 Photos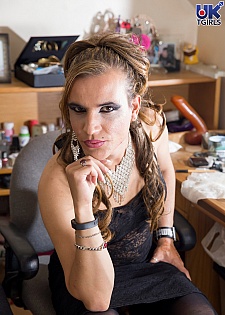 ELZA REMA is a Bulgarian bird who has been living in the Big Smoke for the past few years. A sexy blonde with dark, sultry eyes Elza joins us for her debut shoot dressed and ready for sex in her hold up stockings, heels and see-through underwear which barely contain the uncut goodies within. True to UKTG form, it aint long before this feisty European is turning up the temp as she introduces an old mate into the fray in the shape of a humongous suction cup fuck toy! She's a bad lass and we bleeding like it - Elza Rema!
3rd Sep 2015
14:03 HD Video
& 110 Photos