Jaycee wears a colorful beautiful dress paired with a matching sexy black lingerie , she took couple of poses and shows off her cock but she much prefers to be nude and she obviously looks amazing. Her ass-pussy looks yummy as well and her cock is the perfect size for playing with. Watch!
13th Apr 2017
16:37 HD Video
& 124 Photos
Cutie tgirl Jaycee looks so sexy in her matching lacy lingerie but she looks even more sexy when she takes it all off and shows her cock. Completely no undies and bra, she naughtily plays with her cock in front of the camera.
30th Mar 2017
16:58 HD Video
& 123 Photos
WE JUST fookin' love Jaycee! A proper horny little minx with a slim and girlie, natural bod, lovely budding boobies and a nice 6" piece of suckable she-cock between those long slender pins! She's our resident redhead and local London girl who just loves performing for Kalin's lenses - evident in this pukka performance today as she treats us to a right storming show in the bathroom. Lovely jubbly!
24th Dec 2015
16:59 HD Video
& 113 Photos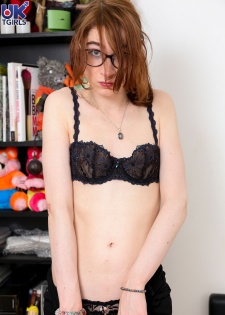 The utterly GOWJUS Jaycee makes her eagerly anticipated comeback to UKTG in this banging solo captured by Kalin! A slender and 100% natural little fox, redhead Jaycee is a London lovely with cracking budding boobies you could just suck on until the cows come home - and then some more! I had the pleasure of meeting this little stunner in person on our recent Grooby & UKTG, London get-together and she really is just as sweet in the flesh as she is on our screens. A proper little scorcher indeed - welcome back Jaycee!
15th Dec 2015
16:59 HD Video
& 124 Photos
OUR resident redhead Jaycee is a corking little London bird with a proper filthy mind! Sweet and innocent on the streets and a firework in the sheets, Jaycee returns for her second UKTG appearance armed with an impressively sized orange dildo! Spread wide on Kalin's floor, she pounds her super tight little arse-pussy with that fake cock like there's no tomorrow, before spreading her long legs wide and begging us drooling hounds to shag her stupid! Any takers?
25th Jul 2015
10:50 HD Video
& 110 Photos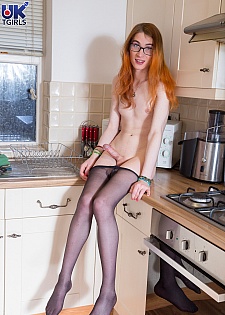 Meet Jaycee - a cracking London bird with a geek-chic edge to her that we reckon is gonna go down a treat with our members. She warmed to the camera in no time in this home cooked kitchen scene - peeling off her tights, lubing up and getting a bit naughty naughty with a butt plug! Cor blimey!
11th May 2015
16:33 HD Video
& 111 Photos