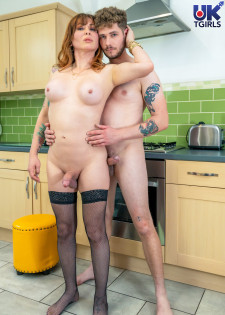 Direct from Italy! Allana was all up for a shoot with Kalin and Master Aaron was her boy of choice. I'm pretty sure Allana was in charge of this shoot, and she really had Aaron spend some time sucking her, as she pulled his head on and off her hard cock, before making sure he was hard for her to ride, and ride and ride. Plenty of good oral and anal action.
3rd Nov 2022
22:54 HD Video
& 170 Photos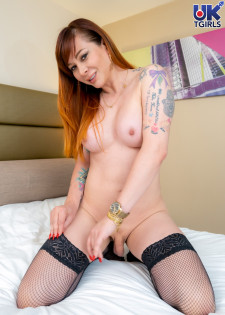 Brazilian-Italian trans 'soccer mom' Allana is back and horny. She's got her sexiest black lingerie and fishnet stockings on and she is hard and ready. So are you going to give her what she's needing and get your lips around that smooth big head, and long shaft. This girl is the full package - watch her play with herself and use her vibrating wand, to show exactly what she enjoys.
17th Jun 2022
14:49 HD Video
& 109 Photos
Like an expensive perfume or a designer handbag, this high end transsexual babe travels the world. Originally from Brazil, she's Italian but visits London regularly and we think she's just fabulous. Classy, sexy and all the good bits of maturity. In her debut shoot, Allana shows us all her goods ... big boobs, lovely big round ass, a big hard cock and a smooth sexy body.
3rd Jun 2022
16:11 HD Video
& 109 Photos