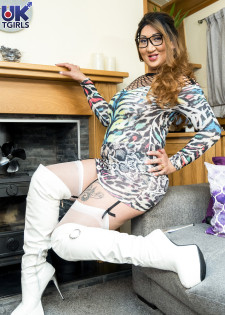 Curvy French trans woman Estelle Mounty has plenty to offer. This statuesque girl, has thick thighs, a big ass and some really good-sized breasts and there is nothing she likes more than having a guy over, to get felt up, licked, tongued and worshipped before she takes care of him. Burying his head between her boobs, sitting on his face and rubbing her ass across him, letting him tongue her asshole and then having him suck her ... before riding his cock. But she's home alone, and she doens't have a guy on speed dial. So out comes the dildo!
6th Jul 2023
17:14 HD Video
& 120 Photos
Estelle Mounty returns. This French favourite of ours hasn't appeared since 2023, so we were lucky that Kalin was able to bring her in. She's wearing her sexy nurses costume, and she's ready to check your temperature and her thermometer is either going to be taken orally, or she's going to lube up and check it by inserting it deeply in your asshole. If you have sex fever, she might start wiggling it in and out, and up and down as you yell for the doctor! Eventually though, Estelle knows what medicine you need and will be giving you a good dosage, right down your waiting throat.
22nd Jun 2023
17:03 HD Video
& 119 Photos
Black lacy panties and fishnets on Estelle will have you aroused in no time....And it is impossible to resist as soon as she starts playing with her ass and masturbates her cock!
4th Nov 2020
16:58 HD Video
& 105 Photos
Bonjour from Paris! I travelled to meet the lovely Estelle Mounty in her city and we did this very hot session with her. She is hot exotic tgirl, curvy at the right places. This beautiful tgirl really is a work of art. - Kalin
21st Oct 2020
17:24 HD Video
& 96 Photos
Estelle Mounty and her partner Esteban flew from Paris to London for this shoot. Estelle gives him a ride and the way her curvaceous body bounces up and down on his cock is freaking amazing. This horny couple were very enthusiastic and passionate. They deliver a lot and were very playful on the bed. A lot of sucking and fucking both ways on the bed! No drama just pure intense hard fucking session!
11th Oct 2017
25:29 HD Video
& 181 Photos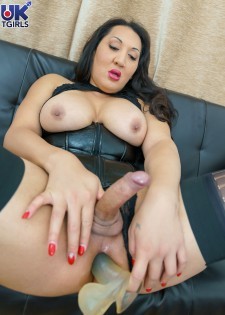 The tasty Estelle Mounty takes her time flaunting her delicious assets in front of the camera wearing a gorgeous black corset paired with a hot black lingerie and fishnets stockings. She´s going to play that lusty mistress and she´s doing it very well. After the teasing she grabs her toy and starts getting naughty with it and it erotically ended up deep into her tight ass.
27th Sep 2017
24:17 HD Video
& 129 Photos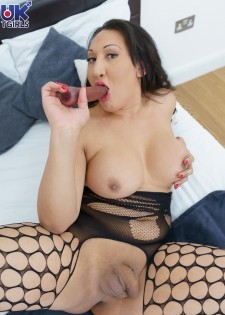 This beautiful babe has an exotic and incredible look that is very enticing for a delicate taste in beauty. She has this curvaceous body eyes that is very hot and her nice fair skin looks so smooth and fine. Having a glimpse of her ass and cock cock as she plays it in front of the camera will put you into a perspiring situation. Enjoy bits of Estelle folks!
13th Sep 2017
19:33 HD Video
& 111 Photos