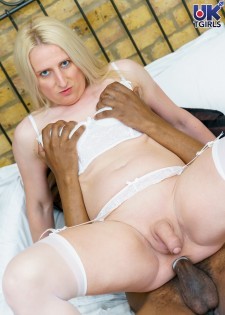 Katie Fox is horny as hell, and when Freddie Bangs (!) wanted to bang she was all for it! This horny blonde British tgirl wastes little time as she gets Freddie's huge cock out and starts giving him a blowjob! Freddie gives back when he sucks Katie's hard cock and eats her out before fucking her! Watch this sexy UK tgirl getting pounded and riding Freddie's long hard cock!
29th Nov 2017
25:21 HD Video
& 185 Photos
Dressed in black stockings and a delicious set of red lingerie, Katie Fox takes you back in time and tells you a story of how she dreamt and eventually became the blonde haired, blue eyed babe that she is today. Katie entices you to join her and play along with her as she plays with her ass, cock and succulent breasts before she unloads her juices and proceeds to eat her sweet warm cum.
29th Aug 2017
18:52 HD Video
& 141 Photos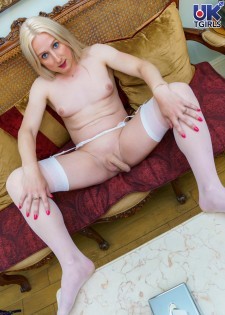 Sitting pretty in pink lingerie and white stockings, you may be fooled into imagining that Katie Fox is much more innocent than she really is. It's not long before she strips off her Summer dress and a silky set of lingerie, opens up her ass with one of her dildos and become sexually charged for any guy who wishes to take position inside her cute ass.
15th Aug 2017
20:27 HD Video
& 140 Photos