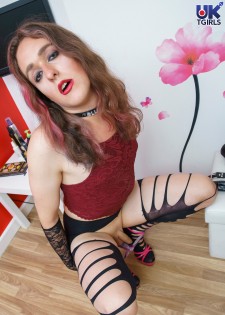 22-YEAR OLD Nottingham bird Lilifer Wild completes a banging 4th UKTG set today - and she's pulling out all the stops with this eye-watering display of absolute sluttiness - straddling two MASSIVE sex toys and showing us exactly how she just loves it up her! A girl who admits to aspiring to be the "dirtiest slut of all" she is as sure as hell on the right path to that title with sets like this. She's a very bad lass and we fookin' love her; get wild with Lilifer over in the update area now!
26th Aug 2016
16:54 HD Video
& 117 Photos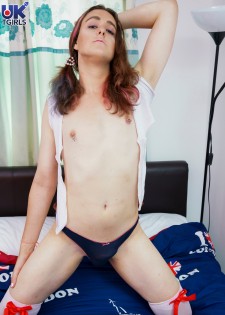 Lilifer Wild in as absolute nympho in every sense of the word! Everything from bondage to degradation goes with this Nottingham bad lass and she just loves it up her in every feckin way possible. Returning today to chalk up her third UKTG exclusive, she's brought her ball gag, inflatable butt plug and huge black double ended dildo as she takes to the sheets and turns up her slut to absolute boiling point! If this horny bird aint nasty enough for ya - we got nowt for ya! Lilifer Wild back on UKTG!
11th Aug 2016
16:54 HD Video
& 110 Photos
NOTTINGHAM nympho Lilifer Wild is incredibly fuckin' naughty! A right little sort with a list of kinks long enough to continued, this gothic she-devil is up for almost anything and has wasted zero time winning her fans over with her two début performances. Opting for the burlesque look today she steps out of her slutty red crotchless lingerie and treats her winking love hole to a spiffingly good butt plug pounding. That's what I call an encore....
10th May 2016
31:50 HD Video
& 124 Photos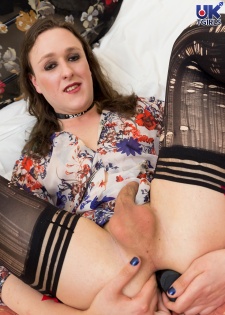 I'm Lilifer Wild. Wild by name, wild by nature. I'm what you get when Gothic elegance meets cheap motel whore debauchery. Essentially this means I like it dirty, real dirty! The kind of dirty where I'm used and abused till my holes are left gaping and leaking cum. Hard bondage, facefucking, ass stretching, humiliation, degradation, I love it all! I aspire to be the dirtiest slut of them all, and will happily suck and fuck my way through it all. So what are you waiting for? Grab my hair, force me to my knees and use me like the living fuck toy I am. Xx
28th Apr 2016
16:02 HD Video
& 119 Photos