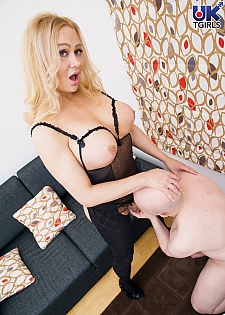 HOW DOES this sound for a Christmas bumper booty set - busty blonde Manchester lass Evain Diamond getting more than just her stockings filled by male talent Big Johnny in her first exclusive since we kicked off the site back in July 2015! Evain's hardcore fans have been screaming at us to get this buxom bombshell back in the studios and your good friends at Grooby HQ have answered with a bar raising festive fuck-fest guaranteed to get you salivating. Merry Bloody Christmas!!!
22nd Dec 2016
20:34 HD Video
& 199 Photos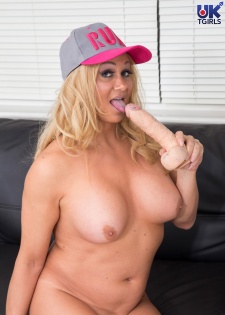 BUXOM blonde bird Evain Diamond is one seriously tasty piece of totty! A sassy and sexy Northern lass with a flawless pair of fun bags, sensual womanly curves and a rock hard portion of uncut English tubesteak between her legs just make this 30-year old escort the full package and then some. Back today for set #2 she is up to no good on the sofa, stripping down to her birthday suit and giving her delicious little 'arris a hard rogering with a dildo! She's a right little poser and we think she is bleeding lovely - welcome back Evain!
21st Jul 2015
31:24 HD Video
& 125 Photos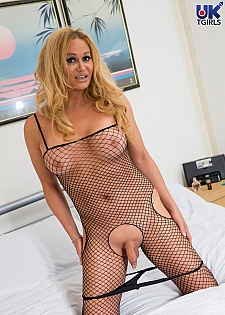 Making her official UKTG entrance in this explosive solo set is the bang tidy Evain Diamond. A masterpiece of a TGirl with big suckable knockers and an arse-pussy I for one, could ravish until the sun comes up, Evain joins us in her slutty bodystocking attire equipped with her favourite dildo. Pick up your jaws gents, its the exquisite Evian Diamond........
11th May 2015
30:24 HD Video
& 142 Photos