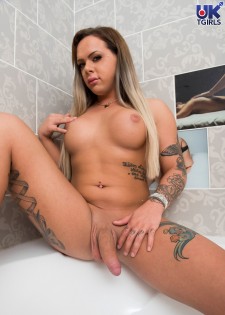 SHE'S A curvy Budapest blonde with a cracking rack and a nice portion of pure uncut TS party time in her knickers! Tiarra Angel storms her 5th UKTG exclusive today and she's up to her usual slutty tricks as she takes to the bathroom to bare all - spreading her big tasty arse and stroking her length to thick cumshot completion! She's a very bad girl in a very good way - Tiarra Angel back with a bang on UK TGirls!
2nd Aug 2016
12:57 HD Video
& 95 Photos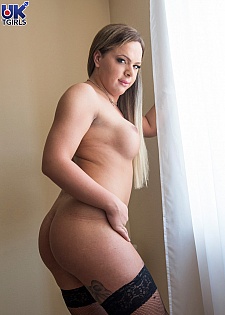 BUSTY Budapest Blonde bird Tiarra made some waves when she burst onto the Grooby scene in her winter début last year. A full figured lass with an ample serving of girl-dick in her always-sexy underwear, she is an up and cumming DJ who just loves to party almost as much as she loves spreading her lovely thick thighs for her chaps. Back today and looking deliciously bang tidy - it's Hungarian hottie Tiarra!
19th Jul 2016
12:10 HD Video
& 88 Photos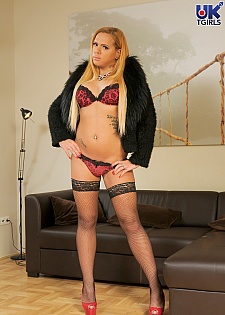 EVER SINCE we first laid our peepers on busty Budapest blonde Tiarra we just knew we needed to see her get that gorgeous arse pounded on film! A few late night, long distance phone calls to Central Europe later and BANG - the cameras are rolling and our good mate Joe has his mouth full of girl cock and is balls deep in her tight and inviting little fuck hole for the viewing pleasure of our beloved UKTG members! Sit back and enjoy fellas.....
23rd Jan 2016
21:10 HD Video
& 167 Photos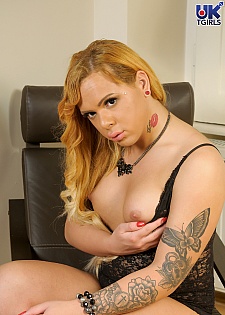 BANG TIDY Budapest bird Tiarra made an instant impact in her debut last month and we've been just itching to get her back for her second set. Looking pretty fookin' lickable in her little black lingerie she unleashes that fine cut of Hungarian heat from it's black laced prison and recklessly wanks off for our viewing pleasure. What a little sweetheart!
10th Dec 2015
12:48 HD Video
& 99 Photos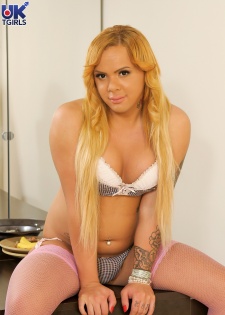 OUR QUEST to bring you the finest totty from the UK and Europe continues in sizzling form today as we banish those dark winter nights and bask in the warm glow of super fit Budapest bird Tiarra! A 22-year old blonde vixen with a corking set of knockers, some cool ink and a nice, uncut helping of thick Hungarian sausage in her knickers, Tiarra arrives on UKTG in this banging debut and we are already itching to see her next set. Phwoaaaar!!
26th Nov 2015
11:01 HD Video
& 107 Photos