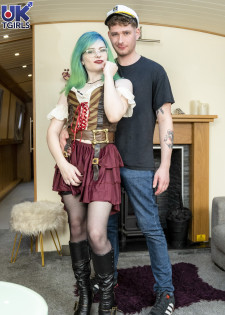 When Evie Nix was invited along to be the shipmate on Captain Aaron's boat she knew she was in for some ass plundering. Far from the high seas, Aaron's long, straight boat, needs to slowly go through the tight canal, as it continues its journey inland ... and Evie adores how Aaron steers it in exactly the right direction and gives her canal orgasm after canal orgasm. A super good scene from Kalin as these two have a lot of chemistry and clearly love to enjoy each other's bodies.
30th Mar 2023
24:40 HD Video
& 136 Photos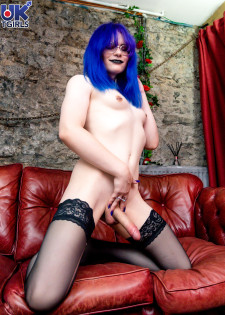 Stockinged legs and Doc Martin boots? I love it. Evie Nyx has a great look and loves showing it off in Kalin's dungeon room. She's wearing her lingerie that matched that blue hair, and she's super horny as soon as the panties come off, with a stiff, thick hard cock which many are going to love. Watch as she used a vibrating wand to bring herself to orgasm. A hot scene indeed.
18th Oct 2022
16:00 HD Video
& 115 Photos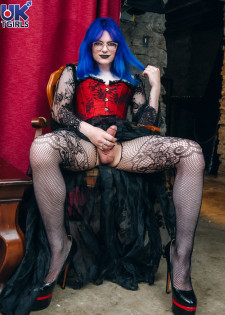 Evie debuted on Femout late in 2021, and we really should have had her back for this site sooner. I'm not the biggest fan of colored hair unless it really fits with the overall vibe of the model and in Evie's case, I think it looks great. Her pale skin, her gothy-type dress, the contrast on her stay up stockings, and the matching makeup all show of a model who is confident in her look - and in her sex. Hot pierced nipples, nice ass and a thick, rock hard cock are just some of the goodies she's got on offer - but she's all so much more. Check out this great new addition to UK Tgirls.
4th Oct 2022
14:07 HD Video
& 112 Photos