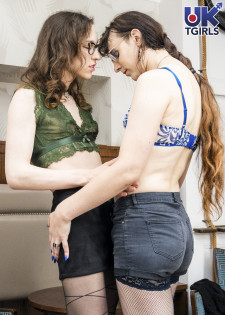 Emily Adaire and Odette Vesper kitted out in their best lingerie and horny for some fun. They both love topping, and they both love bottoming, so it's a good match for some switch fun and the only question is, who goes first? And it's off, Emily is quickly on her knees sucking on Odette's thicky, but it's a quick switcharoo as Emily sits back in her chair, and Odette takes that hard meaty cock into her mouth, it looks like Emily wants to get back to sucking and they compromise with some hot 69 fun, each of their cocks, hard and slick with saliva. Emily gets her ass in the air first, and Odette has no choice but to dive in, penis first and plummet that tight smooth hole from behind, before Emily moves onto her back to get the full length of Odette's thicky inside her. Odette pulls out, and has Emily sit down, as she lowers herself an inch at a time onto Emily's spear, enjoying every bit of the penetration. These two girls enjoyed each other, and now you can too.
26th Oct 2023
25:23 HD Video
& 150 Photos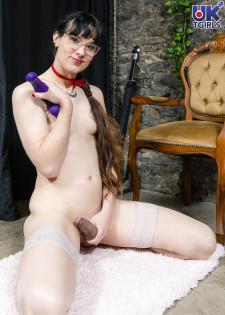 Dutch tgirl Odette Vesper is back and she's going to show us what she loves to do when she's alone, with nobody else to have fun with. Starting in her matching red bra and panties, her cock is already straining to get free - and when they're slipped off, it's hard and raring to go. Odette loves being penetrated and with a bit of lube takes a dildo deep into her waiting asshole, which pulses and vibrates inside her, giving her waves of pleasure.
15th Mar 2023
17:31 HD Video
& 116 Photos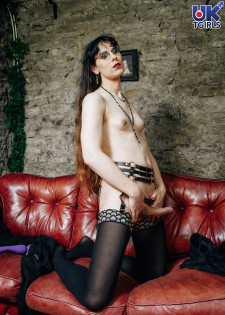 Odette is a Dutch girl living in Belgium and in her late-30s. She applied direct to the site, and Kalin was able to get to shoot her last month. She's got a great body, with some awesome boobs and more awesome big nipples that are set against her pale skin, and a big cock that's easily hard. According to her she loves; "anal, oral, solo dildo, bondage, bdsm... up for a lot of things :)".
1st Mar 2023
16:59 HD Video
& 120 Photos