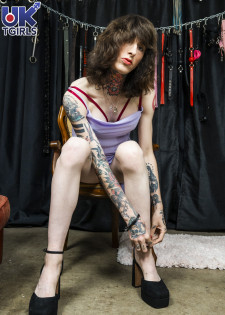 When a girl like Stellar Star loves bottoming so much, she can take control and know exactly how to get it how she wants. And when there are no compliant real cocks around, Stellar doesn't despair, she simply goes into her box of tricks and pulls out a random dildo, that's going to satisfy her today. And the dildo is question, is thick and had a big helmet, and about 8 inches long ... and I did mention THICK right? With her bum high, and her anus puckered, it takes just a little work to get this thickie into her smooth, willing asshole and once in, she squats over and rides it cowgirl style, feeling it go a little deeper with each thrust as it hits different spots, sending waves of pleasure throughout her slim body.
31st Oct 2023
18:06 HD Video
& 121 Photos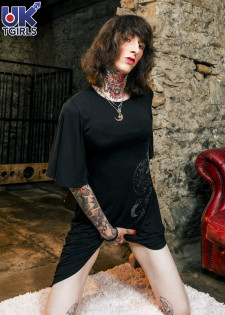 After debuting on this site in June, we saw that Stellar had a different look and invited her back for a reshoot with Kalin. This set has heavily tatted Stellar, stripping down from a black dress to her fetishy lingerie set, in which her panties cannot contain her uncircumcised penis which happily hangs loose and free. There is a thick dildo, with a bulbous head at hand, and she's going to make the most of it, lubing it up, and sliding it into her smooth asshole with only a little resistance, as she enjoys the feelings of pressure and then submitting to being filled, and fucked.
17th Oct 2023
16:46 HD Video
& 119 Photos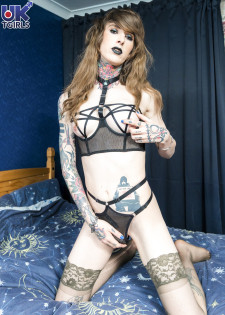 Welcome back to this sexy, good looking English girl who quickly strips from her black dress, to some black lingerie which contrasts on her milk white skin and barely manages (actually it fails) to contain her hard cock, which is bursting to get out. Stellar loves getting her ass stretched, and to show it on camera knowing everyone is going to love seeing how she enjoys herself, is a thrill to her. She pushes the big dildo slowly into her ass, which gradually gives way as she swallows the whole dildo up her pretty hole - Stellar's uncut sweet cock is harder with every rock and thrust of the dildo.
29th Jun 2023
16:42 HD Video
& 120 Photos
This is a unique and interesting brand new girl from the UK. Stellar Starr is a 20-something with a penchant for some really interesting ink, on her pale smooth body. She's got perfectly proportioned boobs with lovely pink nipples, she's lean and toned and with a good sized hard cock. Smooth all-over, this lovely looking girl loves anal penetration, and she's got a toy ready to warm up her hole and really get her horny. Welcome to Grooby Stellar Starr #groobynewbie!
15th Jun 2023
17:20 HD Video
& 120 Photos