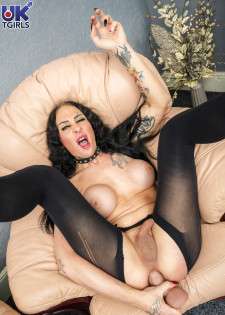 This is a softer look to Valkyria, with her long dark hair down and resting over her gorgeous breasts, her stockinged legs, long and lean and leading up to her baby-smooth balls, cock, and asshole. Valkyria loves her ass being penetrated, and it's guaranteed to get her hard - a thick dildo between her cheeks and deep into her hole, and playing with her uncut cock, is the way she goes to get off.
6th Apr 2023
17:14 HD Video
& 116 Photos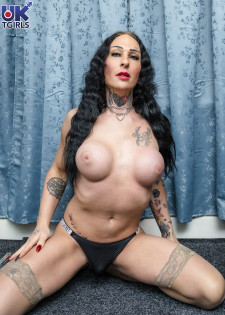 Just like any domestic appliance, you bring Valkyria out for a specific purpose - and after she's done her household duties, then it's time for her reward. And Valkyria likes nothing better than switching on her willing asshole and having it suck up anything in site ... and it's just as well she's got a dildo handy! After toying her asshole, she's super turned on and her foreskin rides back over the head of her penis, the purple monster looking like it's about to explode as she shows off her long body, big boobs and sexy looks to all.
23rd Mar 2023
17:32 HD Video
& 118 Photos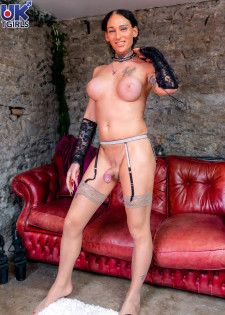 This Swedish sex maven is back and she's going to show us exactly what she loves. It doesn't take long before Valkyria has unleased her big, uncircumcised cock from her panties, and starts playing with it, getting more engorged, getting pinker and looking like it's going to explode. She's then ass up, as Kalin's fuck machine whirrs to life, and gives Valkyria a good anal pounding as she rides back and forth on big dildo as it thrusts into her welcoming asshole.
22nd Dec 2022
17:06 HD Video
& 103 Photos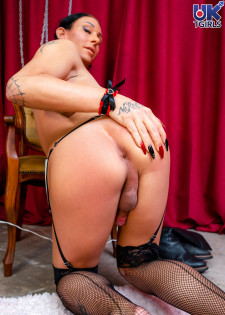 Those of your who can remember Swedish Erotica magazines will recall they were the first introduction for many to hardcore and kinky sex, and it looks like our latest model, Swedish trans girl, Valkyria could be straight out of those pages. There is nothing subtle about Valkyria - she jumps off the screen. Great choice of lingerie and clothes - sexy fishnets, under boots and with a collar. Big boobs, big cock, and a body made for fun.
8th Dec 2022
16:08 HD Video
& 101 Photos