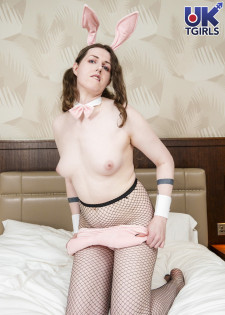 Oh boy, bunny ears, I thought everyone knew how I felt about them! Nevertheless, these big pink ones, do look cute on this sexy little bunny who's pent up and needs to get herself well fucked. 'That's a large, thick dildo you have there, little bunny?' Envy goes to work getting the thick mushroom head of the dildo popping into her smooth, wet welcoming hole, and penetrating herself deeply with it, feeling full, stretched, and hitting all the spots she needs to bring herself to orgasm.
8th Nov 2023
14:53 HD Video
& 116 Photos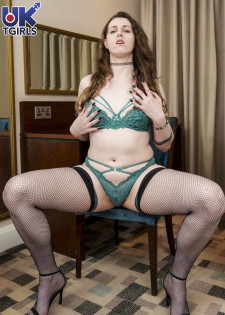 Welcome back to Envy, who debuted here last December. This set starts in a lovely classy dress, supported by her fishnet stockings and high heels, which raise Envy's long legs and show off her shapely ass beautifully. This tall girl, looks every inch the perfect date - sexy and classy, and then when you get her back to the hotel room, that classy facade drops away and a dirty, naughty minx comes out to play. Envy is total bottom, doesn't really get very erect (and it doesn't show much when it does!) and loves to get fucked, or used a thick toy on her ass, getting all her sexual pleasure from being penetrated and stretched. A nice return set from this cutie from Liverpool.
25th Oct 2023
14:43 HD Video
& 114 Photos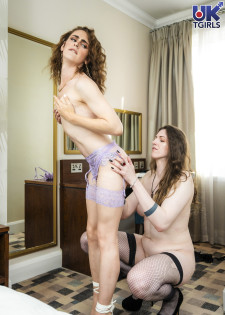 There is nothing Cece Monroe likes better on a long lazy wet Sunday, than having a plaything to ... well, play with. And who better than a submissive, passive Envy Darling who wants nothing more than to please Cece? There may be a difference in height, but it's Cece who is the dominant one and she's soon pushing Envy to her knees so she licks on her toes, sucks her nipples, and tongues her asshole deeply. After that Envy is treated to Cece's hard, smooth cock and low-hanging balls as they're slid in and out of her warm, wet mouth and willing lips. Cece loves to look at Envy's tiny cock, barely a clitoris, as she pounds in and out of Envy's asshole and sees her roll back her eyes in pleasure. Cece is well in control, and Envy knows how to satisfy her.
21st Sep 2023
20:37 HD Video
& 146 Photos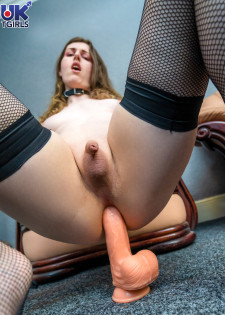 That's quite the dido that Envy brought to the shoot and you can see how much she loves it. Starting with a plug to open herself, she moves onto that big, thick dildo and impresses us with how much she can take. Her small cock soon grows and gets hard, the end peeking out of her foreskin, tiny next to the dildo but getting stiffer. Another nice shoot by this fresh UK model.
1st Dec 2022
16:59 HD Video
& 110 Photos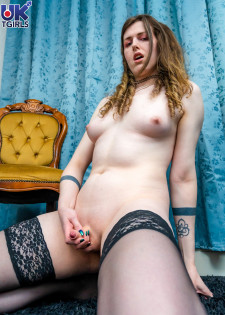 Introducing our newest UK #groobynewbie, Envy Darling - another Nothern girl, hailing from Liverpool. Lovely body, with porcelain skin, and some curves in the right places, a nice big ass, good hips and thighs, and well-proportioned boobs on this cute girl. Speaking of a nice big ass, if you want to get Envy excited, get something in her ass! She's brought along a big black dildo for the shoot and watching her enjoying penetrating herself, as it stretches her open, is quite the treat.
17th Nov 2022
17:38 HD Video
& 99 Photos